Booking
We love to sing, but we'd love even more to sing for YOU!
We have sung for various types of occasions. Consider adding our music to your party, open house, public event – whatever you have planned.  We do get pretty busy during the holiday season, but we will do all we can to work you into our schedule.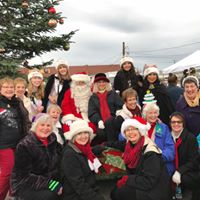 Speaking of the holidays- we have a full line-up of holiday songs. With a quartet or 2 joining us we can easily fill a 30-40 minute program for you. If you'd like a shorter program of 20-25 minutes we can do that too.
There's nothing quite like 4 part a capella music, barbershop style.
For more information Contact Us. We'd love to hear from you!